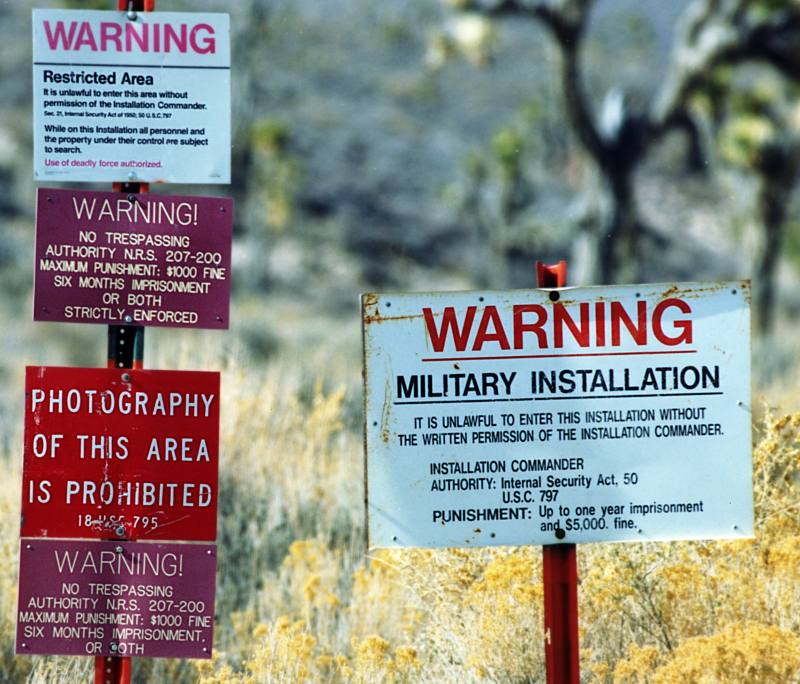 Area 51 is a nickname for a military base located in the southern portion of Nevada in the western United States (83 miles north-northwest of downtown Las Vegas).
Situated at its center, on the southern shore of Groom Lake, is a large secretive military airfield. The base's primary purpose is to support development and testing of experimental aircraft and weapons systems.
The base lies within the United States Air Force's vast Nevada Test and Training Range. Although the facilities at the range are managed by the 99th Air Base Wing at Nellis Air Force Base, the Groom facility appears to be run as an adjunct of the Air Force Flight Test Center (AFFTC) at Edwards Air Force Base in the Mojave Desert, around 186 miles (300 km) from Groom, and as such the base is known as Air Force Flight Test Center (Detachment 3).
Other names used for the facility include Dreamland, Paradise Ranch, Home Base, Watertown Strip, Groom Lake and most recently Homey Airport. The area is part of the Nellis Military Operations Area, and the restricted airspace around the field is referred to as (R-4808N), known by the military pilots in the area as The Box. The intense secrecy surrounding the base, the very existence of which the U.S. government barely acknowledges, has led it to become the frequent subject of conspiracy theories and a central component to unidentified flying object (UFO) folklore.
Operations at Groom Lake
Groom Lake is not a conventional airbase, and front-line units are not normally deployed there. It appears, rather, to be used during the development, test and training phases for new aircraft. Once those aircraft have been accepted by the USAF, operation of that aircraft is generally shifted to a normal airforce base. Groom is reported, however, to be the permanent home for a small number of aircraft of Soviet design (obtained by various means). These are reportedly analysed and used for training purposes.
Soviet spy satellites obtained photographs of the Groom Lake area during the height of the Cold War, but these support only modest conclusions about the base. They depict a nondescript base, airstrip, hangars, etc., but nothing that supports some of the wilder claims about underground facilities. Later commercial satellite images show the base has grown, but remains superficially unexceptional.
-TLC Documentary [Inside Area 51]